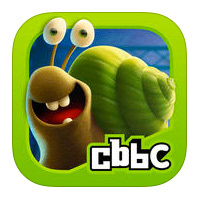 I've been working with Aardman Animation on a BAFTA Nominated Children's BBC app game.
( http://awards.bafta.org/award/2015/childrens/interactive-original )

Aardman approached me to generate the complete look and feel of the app. An amazing opportunity for me.
I developed the style along with creative director Jake Manion at Aardman. I then illustrated the elements that appear in the game, the characters and gadgets too.
I suggested a close 'depth of field' look to enhance the scale because 'le Dude' is such a little guy. As you play the game you'll see the camera zoom in and out and it really looks great. Aardmann have done an amazing job and it's a really simple and addictive game.

Appsolute Genius: Escargot Escape Artistes is the competition winning game from CBBC Dick N Dom's Appsolute Genius 'design a game' competition!
Le Dude the Escargot – that's a snail to you and me - is happily dreaming of a lovely, juicy lettuce leaf… But what's this? The Eiffel tower chef wants Le Dude as the main ingredient in his special dish of the day!
Oh no! Escargot, ESCAPE!!! Climb the Eiffel Tower to freedom.
Don't forget to look out for Hacker T Dog and Steve Backshall, they're here to help you on your way!

Go to the app store on your mobile or tablet to download the Appsolute Genius: Escargot Escape Artistes app for free!